Saturday, January 14th, 2012 | A post by Camille Otrakji
Syrians are paying attention to the changes that are taking place in every Arab country. Although there are improvements and hopes for further improvements in the future, the picture today is generally not that bright:
Bernard Henri Levy , Shimon Peres, Elliott Abrams, and Ayman Zawahiri are delighted with the prospects of change in Syria. That's the same group that unites when ugly things are about to happen somewhere in the Arab world.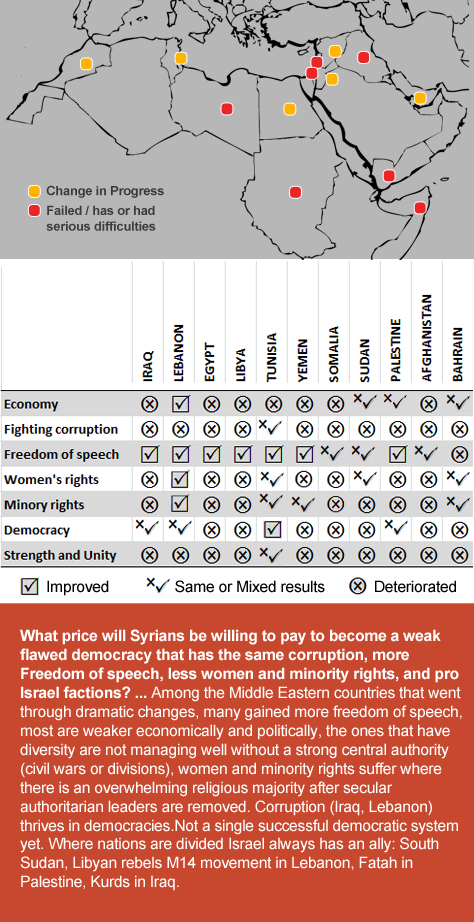 The above are some of the reasons that may explain why the vast majority of Syrians have not been sufficiently motivated to demonstrate against the regime. Many within "the silent majority" are probably opposed to the regime, but they cannot avoid the disappointing reality around them. Despite all the efforts to energize the many potential revolution supporters, a high degree of realism and risk aversion among most Syrians is so far proving to be an insurmountable obstacle for the regime-change specialists and strategists. They have been trying to tell the Syrian people that it is Assad who is deceptively promoting sectarian and other fears among you and that there is nothing to fear. Everything will be fine if the current regime falls, anyone will do better …
In his speech on Middle East policy last May President Obama correctly observed the powerful role that technology is playing in helping people be less prone to manipulation by their dictators. What the President failed to note, however, is that the same internet technology, cell phone cameras and YouTube service are allowing Syrians to see a well known opposition figure acting like a child who wants his toy NOW, the leader of the revolution's "Free Syrian Army" already making it clear he is ready to be anyone's puppet if they bring him to power on a Turkish or NATO tank, Journalist Nir Rosen confirming from personal interviews that defecting soldiers told him they defected for their own sectarian reasons and not because the Syrian army officers tried to force them to "randomly shoot at women and children",  Syrian opposition figures on television despising each other, (and on their facebook pages, and on the street in Homs, or from their Wahhabi financed TV studios  …), young active supporters of the revolution chanting sectarian threats, opposition figures meeting in Brussels physically attack young Syrians demonstrating outside their hotel, an Associated Press raw video clip showing the opposition's Free Syrian Army terrorizing Syrians, a reporter for Le Figaro who sneaked inside Syria from Turkey published interviews with well armed Libyan former Alqaeda fighters inside Syria, and the vast majority of the revolution's women demonstrating only at home.
The west and their Arab allies hoped to rely on the Tahrir square euphoria to provide sufficient motivation for a majority of Syrians to decide to revolt against their leadership. Serbian, Egyptian and American NGOs and revolutionary online activists helped Syrian opposition appear united and non sectarian and civilized and armed with nothing but good plans for a better, democratic, Syria that will respect human rights just like they do in Sweden. Time showed them for what they are … an alarming alternative to the mediocre Syrian regime.
By Camille Otrakji for The Syria Page